Functional Yoga
Date: Mondays @ 6PM

Address: Breath Body Connection | 909 Prospect Street, Suite 100-F, La Jolla, CA 92037 | Located on the first floor inner courtyard near Better Buzz Coffee
You are invited to one hour of movement practice with Bianca Bonus. This class is not your typical yoga class and will feature mobility movements with the intention of encouraging coordination, strength, balance, and flexibility in the body.
Each class will be unique and tailored to the students in the room. Alternative props may be used in class like use of a yoga wall, yoga therapy balls, etc.
An element of sound healing will also be incorporated each class during savasana using singing bowls and other instruments.
Start your week off well, feel good in your body, and amplify your relaxation.
Mondays starting October 28th through January 27th
6PM to 7PM
at Breath Body Connection
909 Prospect Street, Suite 100-F, La Jolla, CA 92037
Located on the first floor inner courtyard near Better Buzz Coffee
RSVP below:
https://www.eventbrite.com/e/functional-yoga-with-bianca-bonus-tickets-76680823407
FAQs:
What is the cost of the class?
Class attendance will be a sliding scale payment of $10 to $20 per person each class. Venmo is accepted at @BiancaBonus. Cash or check payment will be accepted in person.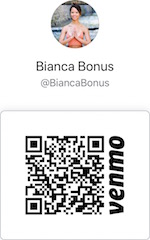 Are there ID or minimum age requirements to enter the event?
Minimum age to attend is 18 years old. Class is open to everyone. Class difficulty level will be dependent on attendees but will be accessible to all levels. If you are healing an injury, please check with your doctor and/or physical therapist before attending.
What are my transportation/parking options for getting to and from the event?
The class is located at a studio called Breath Body Connection at 909 Prospect Street, Suite 100-F, La Jolla, CA. The studio is located at the heart of La Jolla Village and parking may take time. There are free two hour parking spots available off Fay Ave. between Silverado St. and Kline St. Please allow time to park and walk. Class will start at 6PM with a grace period of a few minutes. To nurture the peace and flow of class, late entries past a few minutes will not be accepted.
What can I bring into the event?
Bring a yoga mat, towel, and water. Wear yoga leggings, shorts, a top, or sports bra. Class is unheated and will be a comfortable temperature.
How can I contact the organizer with any questions?
You can contact Bianca directly at [email protected] or (562) 308-0586.
What's the refund policy?
You may receive a refund 24 hours before class starts through Eventbrite. Eventbrite's fee is non-refundable. Refunds are not available for Venmo, cash, or check payments.
Do I have to bring my printed ticket to the event?
No need to bring your printed ticket!
Is my registration fee or ticket transferrable?
Yes! If you can no longer make it to class, please feel free to share the yoga love with a friend.
Corporate
Date: By appointment

Address: Various
Bianca offers corporate yoga partnerships to firms in San Diego and Orange County to help employers promote wellness and work-life balance.
Successful wellness programs have been shown to improve employee engagement. Bianca works with wellness program leads to set aside time and space for employees to enjoy the benefits of on-site yoga. Classes are typically an hour long and held during lunch or after work in a conference room or on-site gym. Bianca customizes the classes to the needs of the group and offers strong vinyasa flows as well as calm restorative stretching. Corporations can choose to sponsor the cost of the program or employees contribute for the classes.
Bianca is passionate about helping people who sit for extended hours at work. Before teaching yoga full time, she built a six year career in financial services. During that time, she learned how to find balance and stay active through yoga, fitness, clean eating, and mindfulness. She hopes to share this knowledge with others to help them live their best in every area of life.
To work with Bianca for a corporate yoga class series or wellness talk, submit an inquiry here.
Private
Date: By appointment

Address: Various
If you are looking to receive one-on-one attention for your specific yoga and mindfulness goals, a private session may be best for you.
Bianca is thoughtful and attentive. She creates a positive space for growth and learning.
Private instruction may be beneficial if you want to:
Customize and deepen your yoga practice
Build strength & increase flexibility by working on muscle groups or poses of your choice
Learn tools to relieve stress, calm the mind, & improve breathing
Recover from an injury
Develop confidence on and off your mat
Students typically progress towards their goals more quickly in private sessions than studio settings.
Bianca is also available for travel opportunities and semi-private classes for groups of 2 or more.
Privates start at $150 per session. A 10 class package is offered for $140 each class, with payment due in full at the first session. For more information on available times, submit an inquiry here.
Broadway Athletic and Swim Club
Date: Tuesdays & Thursdays @ 7AM, Saturdays @ 9AM, Thursdays at 5:30PM

Address: Broadway Athletic | 501 West Broadway, San Diego, CA 92101
Bianca's Vinyasa classes at Broadway Athletic are ashtanga-inspired and accessible to all levels. Her classes combine her love of a graceful and strong practice with intentional living insights she is learning in her own personal journey. She encourages students to breathe, tune into alignment, and come to present awareness. Bianca loves guiding students towards their fullest potential on their mats. She has an intuitive way of offering hands-on assists and tailoring the yoga sequence to the students in the room.
Yoga Six
Date: Sundays @ 4:30PM | Hot Yoga

Address: Yoga Six Point Loma | 2850 Womble Rd #101, San Diego, CA 92106
Bianca teaches Hot Yoga at Yoga Six in Liberty Station. Hot Yoga is a well-balanced set sequence of foundational yoga poses practiced in a room set at a little over 100 degrees with added humidity. The benefits of practicing yoga in a heated room include a good sweat, refreshed skin, relaxed muscles, and a calm mindset. New students get a week for $20 and select classes are available through ClassPass.
Testimonials
We have had a corporate yoga program in the past at my office, but we wanted to go with a new instructor that could bring more cardio benefits into the workout, rather than just stretching and meditation. We decided to work with Bianca, and it was a great decision! She is professional, responsive, and even created her own flyer that we could distribute to employees as advertisement. Our group is a nice blend of all different yoga experience levels. Bianca is able to create each class with multiple levels of difficulty that provides a challenge to the advanced members, while still being approachable for the beginners. She changes it up every time which is a nice variety for the group, and is always encouraging us along the way. Being able to walk away from sitting at the desk all day, and head downstairs to yoga has been a tremendous perk. We are thankful to have found Bianca and look forward to booking more sessions with her in the future!
-A. Fields
Bianca was one of the first teachers I came across when I started yoga. She had a welcoming and motivating presence that made trips back to the mat fun and a positive opportunity, which altered my idea of yoga as a chore to keep myself healthy and repair injuries from sports.
I love how she takes yoga beyond studio walls to outdoor locations with refreshing beach views and sunsets.
Learning focus, acceptance of wherever I am, and having confidence in the ability to improve or change things in my life are invaluable to me and she has been a great guide.
-T. Chan
Bianca's classes find the perfect balance between guidance and challenge. She tailors the warmups to prepare you for any challenging poses you may want to practice, teaching new poses in a way that's accessible for all skill levels, and most importantly, creates a safe and comfortable environment to play and grow. Each class begins, revolves around, and ends with an encouraging theme that creates a sense of uniqueness absent from other instructors' classes. I'm always learning something new with Bianca, and after class I'm excited to take my practice further. 
-J. Sinclair