Uplift + Nourish
Date: Mondays at 5PM | Wednesdays at 12PM | All PST

Address: Online Yoga via Zoom
You are invited to Uplift + Nourish, a LIVE yoga experience with me in my home/virtual yoga studio every Monday and Wednesday on Zoom. 💫 Shift how you FEEL in just 60 minutes with me.
We'll start off with breathwork to calm the nervous system and continue on to our practice, which will focus on breaking down the stress and anxiety in our bodies.
We need yoga. We need healing.
So join me in Uplifting + Nourishing your body and soul.
Weekly Schedule
All Levels Yoga
Mondays 5PM to 6PM PST
Wednesdays 12PM to 1PM PST
These classes are vinyasa/ashtanga yoga based and open to all experience levels, with more advanced variations offered throughout class. Each class is always unique and will provide a well-rounded, balanced practice for your body and mind.
Sliding scale payment of $10 to $15 each class.
---
RSVP Instructions:
1. Save the dates and times on your calendar.
2. Email me at [email protected] so I can count you in!
3. Download Zoom for free.
4. Check your email for the details.
5. Pay for class before it starts and then login to the Zoom meeting room.  ⭐️  Payment is accepted through: Venmo 👉🏽@BiancaBonus, Paypal 👉🏽[email protected] or Zelle 👉🏽[email protected]
See you over email! 💌 Share this with someone who needs this right now.
---
A few benefits from Bianca's classes that attendees shared:
Connect to my body, create calmness, great half day break, most importantly improve my practice.
Staying safe and being active. It has gotten me back to practicing yoga again.
Receiving guidance during a class (compared to watching a video) has been really helpful! It really helps alleviate stress and any pent-up energy while we are staying home.
I am new to yoga and I have really enjoyed your classes. I like that yoga can be relaxing as well as challenging. You've been extremely motivating and helpful, too. 🙂
Rejuvenated overall
Bianca's energy and encouragement to practice yoga even at home
Staying home, no need to go to gym, wear a mask…
The stretching has been most beneficial.
Motivates me to work out at home, mitigates desk pain, sense of community with a big group
A fantastic at-home workout, the transition Bianca made from studio to at-home practice instruction has gone off without a hitch. Truly impressive.
After sitting at my desk in the morning or even a few days, Bianca's classes have been something that in general makes me feel better – I feel stronger, more flexible, more open, and it's a mental break in the middle of my day. Bianca's soft and gentle but motivating voice is perfect!
Flexibility of doing yoga from home led by a great instructor!
Intensity mixed with relaxation helps me relieve stress
Routine and helps me make a commute my wellness
I sleep better the days I am able to take a class.
---
FAQs:
What is the cost of the class?
Sliding scale payment of $10 to $15 per person each class. Venmo is accepted at @BiancaBonus, Paypal using [email protected] or Zelle using [email protected]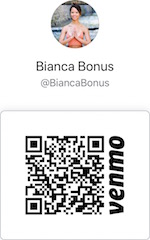 Are there ID or minimum age requirements to enter the event?
Minimum age to attend is 18 years old. Class is open to everyone. Class difficulty level will be dependent on attendees but will be accessible to all levels. If you are healing an injury, please check with your doctor and/or physical therapist before attending.
What do I need for class?
Prepare a yoga mat, towel, and water. Wear yoga leggings, shorts, a top, or sports bra. You may also choose to include pillows, blankets, or blocks if you have them.
How can I contact the organizer with any questions?
You can contact Bianca directly at [email protected] or (562) 308-0586.
Corporate
Date: By appointment

Address: Various
Bianca offers corporate yoga partnerships to firms in San Diego and Orange County to help employers promote wellness and work-life balance.
Successful wellness programs have been shown to improve employee engagement. Bianca works with wellness program leads to set aside time and space for employees to enjoy the benefits of on-site yoga. Classes are typically an hour long and held during lunch or after work in a conference room or on-site gym. Bianca customizes the classes to the needs of the group and offers vinyasa flow, functional mobility, as well as calm restorative stretching. Corporations can choose to sponsor the cost of the program or employees contribute for the classes.
Bianca is passionate about helping people who sit for extended hours at work. Before teaching yoga full time, she built a six year career in financial services. During that time, she learned how to find balance and stay active through yoga, fitness, eating well, and mindfulness. She hopes to share this knowledge with others to help them live their best in every area of life.
Corporates are at $150 per session. A 10 class package is offered for $140 each class, with payment due in full prior to the first session and classes have no expiration date. To work with Bianca for a corporate yoga class series or wellness talk, submit an inquiry here.
Private
Date: By appointment

Address: Various
If you are looking to receive one-on-one attention for your specific yoga and mindfulness goals, a private session may be best for you.
Bianca is thoughtful and attentive. She creates a positive space for growth and learning.
Private instruction may be beneficial if you want to:
Customize and deepen your yoga practice
Build strength & increase flexibility by working on muscle groups or poses of your choice
Learn tools to relieve stress, calm the mind, & improve breathing
Recover from an injury
Increase usable range of motion through functional range conditioning (FRC) techniques
Students typically progress towards their goals more quickly in private sessions than studio settings.
Bianca is also available for travel opportunities and semi-private classes for groups of 2 or more.
Privates start at $150 per session. A 10 class package is offered for $140 each class, with payment due in full prior to the first session. For more information on available times, submit an inquiry here.
Broadway Athletic and Swim Club
Date: Tuesdays & Thursdays @ 7AM, Saturdays @ 9AM, Thursdays at 5:30PM

Address: Broadway Athletic | 501 West Broadway, San Diego, CA 92101
Bianca's Vinyasa classes at Broadway Athletic are ashtanga-inspired and accessible to all levels. Her classes combine her love of a graceful and strong practice with intentional living insights she is learning in her own personal journey. She encourages students to breathe, tune into alignment, and come to present awareness. Bianca loves guiding students towards their fullest potential on their mats. She has an intuitive way of offering hands-on assists and tailoring the yoga sequence to the students in the room.
Testimonials
We have had a corporate yoga program in the past at my office, but we wanted to go with a new instructor that could bring more cardio benefits into the workout, rather than just stretching and meditation. We decided to work with Bianca, and it was a great decision! She is professional, responsive, and even created her own flyer that we could distribute to employees as advertisement. Our group is a nice blend of all different yoga experience levels. Bianca is able to create each class with multiple levels of difficulty that provides a challenge to the advanced members, while still being approachable for the beginners. She changes it up every time which is a nice variety for the group, and is always encouraging us along the way. Being able to walk away from sitting at the desk all day, and head downstairs to yoga has been a tremendous perk. We are thankful to have found Bianca and look forward to booking more sessions with her in the future!
-A. Fields
Bianca was one of the first teachers I came across when I started yoga. She had a welcoming and motivating presence that made trips back to the mat fun and a positive opportunity, which altered my idea of yoga as a chore to keep myself healthy and repair injuries from sports.
I love how she takes yoga beyond studio walls to outdoor locations with refreshing beach views and sunsets.
Learning focus, acceptance of wherever I am, and having confidence in the ability to improve or change things in my life are invaluable to me and she has been a great guide.
-T. Chan
Bianca's classes find the perfect balance between guidance and challenge. She tailors the warmups to prepare you for any challenging poses you may want to practice, teaching new poses in a way that's accessible for all skill levels, and most importantly, creates a safe and comfortable environment to play and grow. Each class begins, revolves around, and ends with an encouraging theme that creates a sense of uniqueness absent from other instructors' classes. I'm always learning something new with Bianca, and after class I'm excited to take my practice further. 
-J. Sinclair